P W D L GF GA GD Pts
TURKMENISTAN 1 1 0 0 5 1 4 3
PHILIPPINES 1 0 1 0 0 0 0 1
AFGHANISTAN 1 0 1 0 0 0 0 1
LAOS 1 0 0 1 1 5 -4 0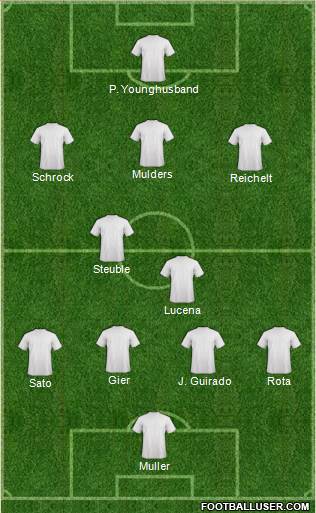 The return of Phil Younghusband and Rob Gier to the Azkals side will be a boost, but is tempered by news that Neil Etheridge will miss today's match due to a recurring injury.
Phil Younghusband, the leading goalscorer of the 2012 AFC Challenge Cup, is expected to lead the line against Laos in the Azkals' second match in Group B.
Patrick Reichelt and Stephan Schrock should man the flanks. Paul Mulders, who was in the starting 11 last match but had to pull out due to sea sickness, could play in the hole.
The availability of Rob Gier means that Jerry Lucena could be deployed as a defensive midfielder, although coach Thomas Dooley might opt for either Chris Greatwich or Jason de Jong and save Lucena for the tougher match vs Turkmenistan.
Roland Muller will be a more than able replacement for Etheridge, if indeed he is unable to play.
There is talk among the Azkals fans in social media of the team needing to win big – "4-5 goal margin if possible". Perhaps they were buoyed by Turkmenistan's 5-1 win vs Laos last Tuesday, but make no mistake, the Azkals overlook Laos at our own peril.
Laos actually led 1-0, before being overwhelmed by Turkmenistan. Another important trivia: the Philippines have never beaten Laos in a senior football match. This would be the perfect time as any to beat our fellow Southeast Asian counterparts.
Laos knows that a loss would eliminate them from the tournament, thus we should expect them to come out fighting.
A win and three points are the minimum requirement against Laos. A draw would give us hope, but it will leave us with too much to do vs Turkmenistan in the last game.
A loss – let's not go there.
A strong and convincing win gives us four points AND puts us ever closer to a slot in the semi-finals. It also sends a message to our rivals that the Philippines is for real and is to be taken seriously.