Last July 23, 2012 was a historic day for the new Yankee Stadium as it hosted a football, er soccer match for the first time in its relatively new history. The old Yankee Stadium hosted a football game 36 years ago.
Here's Yankee Stadium as it was being prepared for the football game.
Photo courtesy of the New York Yankees.
Another shot of Yankee Stadium during the game.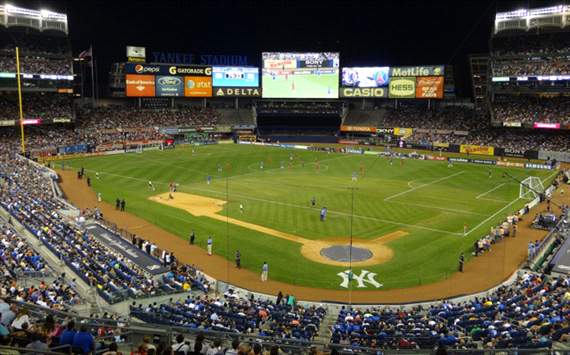 Photo from the New York Yankees
38,602 fans watched the game between Chelsea and Paris St. Germain, which resulted in a 1-1 draw. Here's the seating layout for the game. Which are the best seats? You can see that it is a baseball stadium alright.
Photo courtesy of Tickets Review.
Not exactly the most symmetrical of venues for a football match, but certainly one packed with history, baseball wise.