August 20, 2011 was an overload for the football senses. At 6pm I was at the Rizal Memorial Football Stadium for the first leg of the Smart Club Championships between TEKNIKA Global FC and Smart San Beda FC. A good sized crowd came to watch the game in the grandstands.
After the game, I hopped on over to Heckle and Jeckle Bar and Restaurant in time to catch the second half between English Premier League sides Liverpool FC and Arsenal FC. Here are some of my random thoughts :
1.) The Rizal Memorial Football Stadium pitch looks as good as new. Even after the Azkals' games, the pitch has obviously still been properly maintained and not even rain before the match did not cause any problems for the players.
One note though. It is probably a good time to replace the batteries on the analog clock at Rizal Memorial Football Stadium. Unless we are commemorating that happened at 12:24, perhaps anyone from the maintenance department should have the clock working again. As it is, 12:24 is remembered as the time the batteries run out in the clock at Rizal Memorial Football Stadium.
2.) Play from both teams drew passionate cheering and jeering from the crowd. From where I was seated (in San Beda territory), one particular Beda fan in an Arsenal shirt shouted himself hoarse with his very colourful language. Good to see such ardent supporters voicing out their opinions in public. One particular comment drew a "huy, may bata dito!" response, so you can just imagine what he said.
3.) Clearly, respect for the officials have to be observed for any league to prosper in the Philippines. Truth be told, disrespect for the referees is not a just local problem, meaning these same problems abound in England, for instance. Crowding and intimidating the referee, and to a certain extent, shoving him, should never be tolerated.
4.) That said, the level of officiating should really step up. Blatant diving and simulation by players should not go unpunished. On numerous instances, 'fouls' like these led to numerous free kicks in dangerous areas, which could have resulted in goals which could decide the tie. Granted that referees are not perfect, and cannot be expected to get everything right, but some acts of trickery by the players are simply too obvious and simply put the beautiful game in disrepute.
I personally understand the necessity for the occasional gamesmanship (time wasting by the goalkeeper, substitutions), but falling theatrically on the slightest touch, or grabbing the knee when he was clearly hit only on the shoulder is ridiculous and should never be tolerated.
5.) With regards to the LFC - Arsenal game, it was heartwarming for the Filipino football fan in me to see the local chapters of Arsenal Fans Club and Liverpool Fan Club being represented at the bar. The President of the Arsenal Fans Club of the Philippines, complete with his Arsenal shirt, was present alongside foreign expats who were watching the game. Hopefully, it won't be long before local clubs will have the same following.
6.) Andy Carroll looks like a gigolo with his build and his hair, but he sure cuts an imposing figure up front for the Reds. With the Azkals relying on finesse and skill rather than aggression up front, would perhaps a similar menacing striker can do wonders for our offense?
Andy Carroll / Wikipedia
7.) For the life of me, I cannot foresee how Arsenal can win anything with a lineup composed of, among others, Carl Jenkinson, Ignasi Miguel, Henri Lansbury, and Emmanuel Frimpong. Certainly no disrespect to the Professor, Arsene Wenger, but it would be high time to re-invest some money into signing quality veteran players to guide the youngsters.
Frimpong had a decent game, making some fine tackles before his sending off, but IMHO he and the other youngsters are not yet ready for the Premier League.
Emmanuel Frimpong / Getty Images
I have gone on record in saying that any owner of any company would gladly hire Wenger as their CEO, given Arsene's track record for making profits. But, this is football and sometimes it is not enough just to balance the books. It is also important for the fans and players to have trophies to show for their efforts.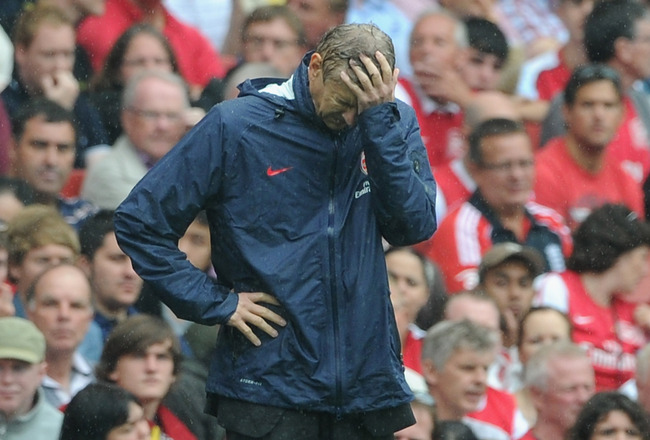 Arsene Wenger / Michael Reagan GettyImages
8.) Lastly, going back to Rizal Memorial Football Stadium (told you this was a random thoughts post), I certainly hope the people in charge can do a better job on the scoreboard than this :
* They did not even bother to put a '0' on the score for San Beda FC.